The Great Clock of Westminster restored in tiny Cumbrian hamlet
As the Palace of Wesminster renovations finally draw to an end
after five long years and at a cost of many millions of pounds,
probably one of the best kept horological secrets has finally been revealed. During the work, the world's most famous clock – The Great Clock of Westminster (Big Ben) – was completely dismantled and transported over 300 miles from London to Dacre, in the Lake District, to be restored.
Keith Scobie-Youngs, of the Cumbria Clock Company, was
tasked with the project, but was sworn to secrecy to protect this
national treasure. He was helped in the mammoth task by Palace clockmakers and members his 22-strong team.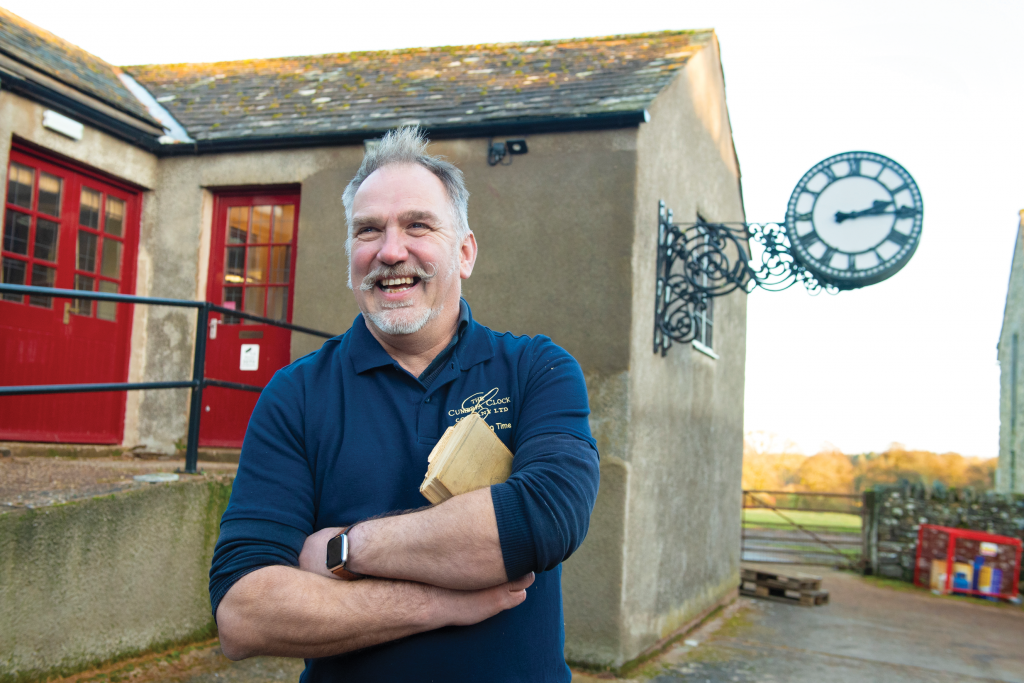 Keith, who is a Director of the Guild, has run CCC with his wife Lynn for 32 years and now has a 5,000 square foot fully equipped workshop in picturesque Dacre, near Penrith. He explained that it was impossible to work on the huge weight driven mechanical clock – which was designed by Edmund Beckett Dennison, (later known as Lord Grimthorpe) and built by Edward and Frederick Dent in the 1850s – on site as there was just no room. So the decision was made to transport the cast iron, steel and brass three-train clock 'up north'.
He said that the 'Big Ben Project' was his most challenging to date simply because of its sheer size and the logistics needed to move a 11 1⁄2 tonne precision instrument. In all, over 1,000 components were transported to Cumbria.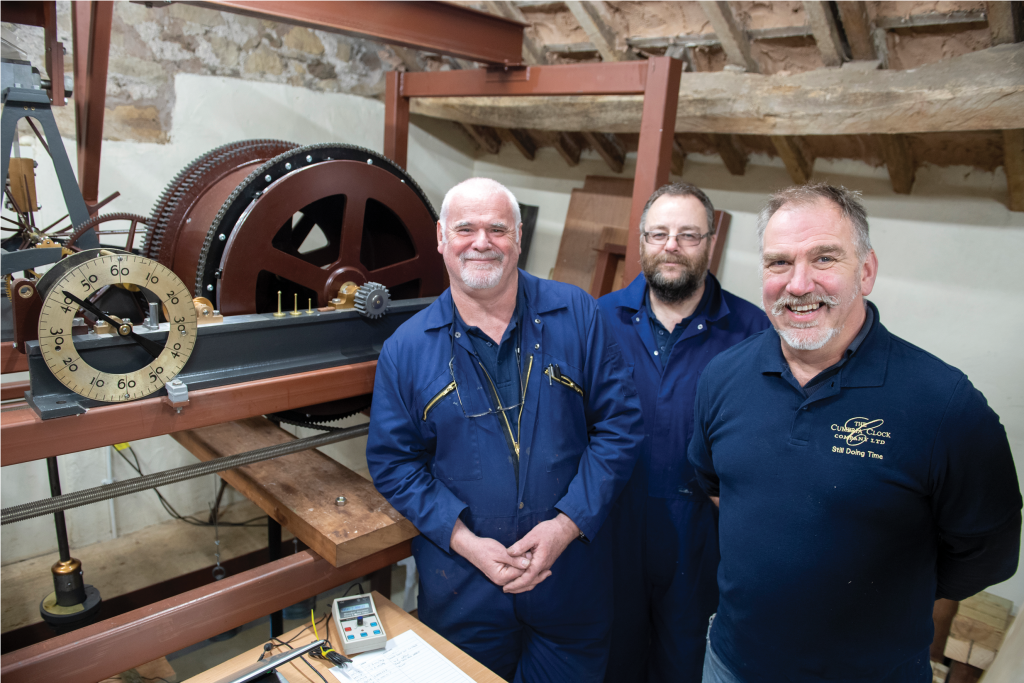 Keith explained: 'There just wasn't the room to work on the Great Clock in situ in the Elizabeth Tower so it had to be completely dismantled, mechanism, dial motion works, gearing,
hammers, etc. Scaffolding was put up to enable the hands to be
removed, and then everything was lowered down the weight shaft, including the chime barrel which, at 760 kilos, is perhaps
the heaviest component in the world.'
'It took three days to get everything to the bottom and only
the clock frame was left in the tower,' he added. 'During the
restoration period, one dial, complete with a replica set of hands
run by a drive unit, was left showing in the tower. We made sure
these looked like the original.
Once at CCC, the first task was to remove decades of grime, as the Clock had never been dismantled in its entirety before. Keith said that three different methods were used; cleaning fluid, a dry ice blaster and an aqua blaster. A variety of repair work on the components was undertaken, before it was painted and relacquered. The old paint has been kept under the new top coat, which was painstakingly matched to the original. Every stage of the restoration and all of the parts were photographed as there are no drawings from when the clock was originally made.
Keith added: 'This restoration has given us the opportunity to produce a full set of engineering drawings for the whole mechanism to allow future Palace clockmakers to make individual components if they become damaged or worn. They will be included as part of an Operators Manual to help others understand the Clock and how to look after it properly.'
'I feel very proud to have had the opportunity to work on this iconic clock. I have always loved turret clocks and the fantastic buildings they are housed in but I never thought I would have the chance to work on the Great Clock of Westminster.'
Jayne Hall
A talk by Keith on the restoration of the Clock is available on YouTube